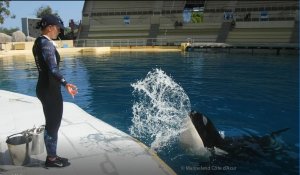 Did you check out Kathleen's latest peer-reviewed papers? 
Killer Whales: This on-going collaboration between Dr. Heather Manitzas Hill (St. Mary's University), Marineland Côte d'Azur, SeaWorld Texas, and Kathleen is a study of nine killer whales who were trained and tested on the "innovate concept." This test, which was previously done with bottlenose dolphins, allows researchers to ask individual animals to do a new behavior of their choosing. Not only is this an enriching exercise for the animals, but the ability to think creatively may indicate flexible thinking, which is considered to be an indicator of complex cognitive functioning. The paper has been published in the peer-reviewed journal, Animal Cognition.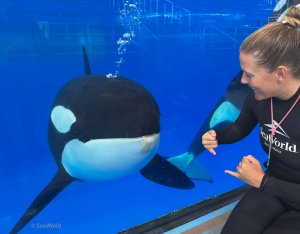 Bottlenose Dolphins: Kathleen & colleagues from Sacred Heart University, St. Mary's University, and Roatan Institute for Marine Sciences conducted a cross-species comparison between preschoolers & bottlenose dolphins. "A Comparative Test of Creative Thinking in Preschool Children and Dolphins" is available to all. 
You can snag most of DCP's publications right here on our website. See a paper that isn't available for download? That's due to the publisher's rules, so just jot us a note!