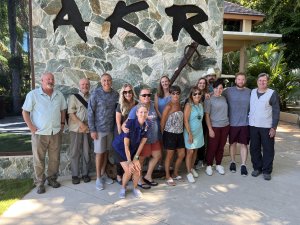 Return travel went well for everyone and catching up on emails and regular mail and laundry and the like kept at least me busy for a day or two, if not most of us. You can see the delighted smiles on everyone's face in our last group photo from Saturday that we had a great week of diving, snorkeling, and dolphin research! Even given the few mornings of really bad underwater visibility, I was able to collect more than 1.5 hours of video data, one space use session of data, and four reading study sessions with Bailey and Meredith. Productive!
Thank you to Ron, Bill, Don, Mary, Kate, Louise, Shannon, Ike, Ally, Dawn, Bob, Tracy and Tony for your help this week, in addition to your conversation, thoughts, opinions, and lively discussions!
Our next program to Roatan and Anthony's Key and the Roatan Institute for Marine Sciences is January 2023. Stay tuned!
Cheers
Kathleen and DCP's October 2022 Ecotour Group