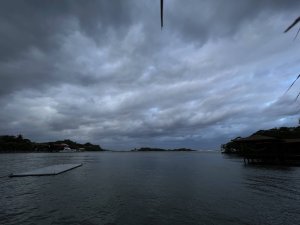 Our last early AM data collection session was cancelled – thank Mother Nature! We had rolling breaking waves over the reef and horrible visibility! And, to add to that, a wickedly strong current – even the taxi boat was moving sideways in the early morning when docking at either the Roatan side or the AKR side. And, there were breaking waves on the Bailey's Key beach!
So, the CSU group #2 team had a little sleep in with breakfast at 8:15 followed by an informal chat and a visit to the developing dolphin sculpture by Bill Gee. We are looking forward to seeing the progress as the dolphins emerge from the granite.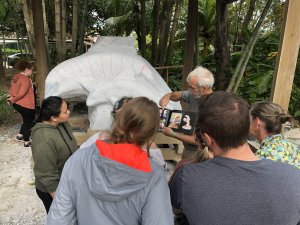 Our last CSU group #2 photo included the AKR anchor and welcome sign.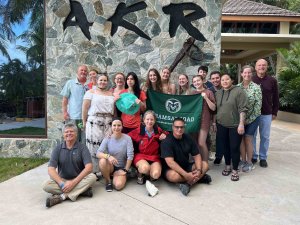 Manon and Kathleen had a couple of hours to regroup between groups. We welcomed Justin and the URI group mid-afternoon. We immediately pulled them into the classroom for a RIMS/AKR orientation before letting them get unpacked.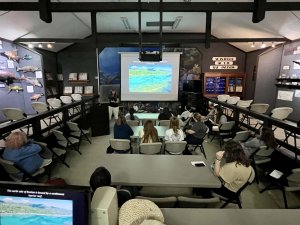 A few of them decided to take a quick swim to wash off the very long day of travel!
Our dinner was yummy and we look forward to starting tomorrow just after dawn!
Until tomorrow,
Kathleen, Manon, Justin, Rowan, Emma, Cassie, Rachel, Molly, Grace, Lydia, Sammy, Hannah, Alexis, Erin, Jen