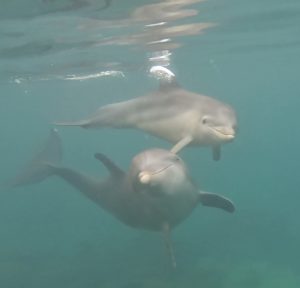 Today was a DCP first! Two groups of field course students overlapping in their time at AKR and RIMS with Kathleen and Manon. The York group is departing on Sunday morning and the CSU students arrived this afternoon (Saturday) – first time ever the CSU group was early in getting to Roatan!
Data collection this morning went well with much socializing among the dolphins. The underwater visibility was not as good as yesterday, but the dolphin interactions were mostly quiet at the surface with small batches of activity. The York students and Manon did the morning snorkel, which yielded views of a hawksbill turtle and a southern stingray. The afternoon was off for everyone to relax before a day full of travel.
CSU students had their day of travel today but arrived in time for lunch and the program's on-site orientation, as well as a quick trip to Bailey's to meet the dolphins before dinner.
York student impressions of the day:
We were so delighted to end our two-week DCP field course by being escorted by wild dolphins on our way to our snorkel site.  Thanks to everyone at AKR and especially Kathleen & Manon. And also, lions beat rams (wink, wink). 
CSU student impressions of the day:
Grace – we met the dolphins and watched them play.
Sydney – got so many bug bites already!
Hattie – we made friends.
Julia – I met a dolphin named Elli and she had the tallest curved dorsal fin.
Isabella – I got to meet some of the dolphins, and I took two naps. It's been nice.
Natalie – we enjoyed exploring the island and finding natural creatures such as a lobster and crab.
Aria – we got to go paddleboarding and the water is really warm.
Kiki – When we went paddleboarding I saw a bunch of sea snails on a big rock. It was pretty cool because I love mollusks.
Hannah – It's really hot down here but the views are so beautiful.
Mel – visiting the dolphins made me really excited for the next week.
Memphis – it was an extraordinarily bumpy plane ride to get to Roatan. (I thought we would die!)
Blake – we had some of the best food I've had in months!
Shane – it's good to be back.
Manon – safe travel to York students and welcome CSU students.
Tomorrow promises more excitement!
Until then,
Cheers
Kathleen, Manon, York & CSU students and professors