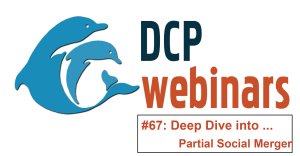 First up, a Deep Dive into the partial merger of two dolphin societies with DCP's own Nicole Danaher-Garcia.
You may have heard about DCP's latest RSOS publication in Science, Newsweek, and the New York Times. Now is your chance to hear straight from the source. Nicole will discuss the interactions between members of two communities of Atlantic spotted dolphins in The Bahamas; asking if members of the same group were physically near each other as well as if they interacted with each other through physical touch. Fascinating stuff!
You can find other DCP webinars on our YouTube Channel or right here on our website, under the Knowledge Hub!
September 14, 2022 7:00 PM Eastern Time (NYC, Miami, etc.)
Join URL: https://us02web.zoom.us/j/83370431758
Meeting ID: 833 7043 1758