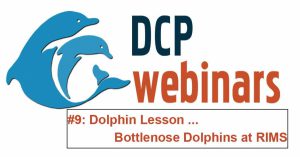 Join the DCP team as we introduce you to the bottlenose dolphins at the Roatan Institute for Marine Sciences (RIMS) in Roatan, Honduras. Kathleen is joined by Teri Bolton, Director of Training and Research at the RIMS. This program is geared toward ages 6 – 13, but dolphin lovers of all ages should enjoy it. No need to do anything in advance. Happy Viewing!
Note: Our conversation with Teri and the dolphins at RIMS was disrupted at about 11 and a half minutes into our connection. As such, we will coordinate with Teri for a re-visit to RIMS sometime in June. Stay tuned!
Check out the RIMS online and at social media:
Instagram: @RoatanInstituteMarineSciences
FaceBook: Roatan Institute for Marine Sciences and/or @roatanims
web site: www.roatanims.org
or also: https://anthonyskey.com/
If you missed our earlier webinars, you can check them on YouTube, including our first Dolphin Lesson on photo-ID.
Or, you can check out the other webinars here, under the Education tab for webinars.
Original airdate of this webinar: May 5, 2020