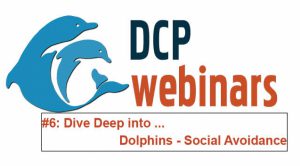 When studying social animals, behaviorists often ask questions about individuals' preference for others in their group. But, what about asking questions about who a given individual might avoid? Scientists created models to ask these questions and tested it on bottlenose dolphins and….Eastern water dragons!
We are glad to share this presentation + Q&A session about social avoidance with dolphin researcher (& former DCP intern/Master's student), Alexis Levengood, PhD.
This program is geared toward high school students and above, but all are welcome. To get the most out of this presentation, check out this article beforehand. This PDF is available at no cost to you.
Check out the DCP website (https://www.dolphincommunicationproject.org/index.php/get-involved/webinars) or DCP's YouTube channel to find more archived programs. On DCP's website, you can also find free, downloadable STEAM activities for kids (look under the education tab). Stay tuned to our social media for upcoming webinars, field programs and more!