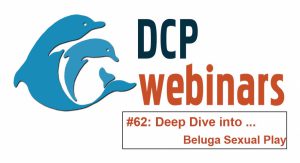 *Content warning: As the title indicates, this talk discusses sexual interactions in non-human animals. The speaker uses vocabulary and shows images related to sexual interactions and reproductive body parts in non-human animals, particularly beluga whales. As such, we recommend this presentation for mature audiences.*
In this Deep Dive, you'll learn about how sexual play behaviors develop in young belugas. Answering questions such as what does beluga sexual play look like? And do they have preferences with whom they play? It will be a playful talk, indeed!
Jackson Ham is a PhD student at the University of Lethbridge, Canada, studying Behavioral Neuroscience. His research focuses on the development and neurobiology of play behavior. This program is geared toward ages 14 and up, but all are welcome.
Jackson Ham's social media is available at: Twitter: @jacksonhammy; your also welcome to tag my facebook if you can.
You can find more DCP webinars here on our website under the Eucation tab or on our YouTube channel (Dolphin Communication Project).
Original Airdate: 14 December 2021