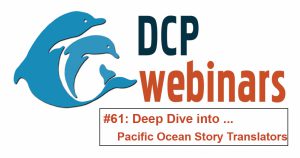 *Content warning: images of dead animals (unknown cause and indigenous hunting), blubber dissection, and the topic of subsistence hunting are shown/discussed during this talk. Examples of trauma and challenges to ocean animals are discussed.*
In this Deep Dive, Dr. Amy C. Hirons discusses the ways in which the largest ocean basin on the planet is a collector of both nature's and man's history. Plants and animals can be used to help interpret what the oceans have recorded through time.
Dr. Hirons, an Associate Professor and oceanographer at Nova Southeastern University's Oceanographic Center, has spent the past 25 years studying the planet's oceans directly and with the use of various plants and animals. Her work takes her from the Arctic to the Antarctic. Having grown up in Hawai'i and lived in Alaska, remote locations are nothing new to her.
This program is geared toward ages 14 and up, but all are welcome.
Dr. Hiron's lab is the CMOL-Charismatic Megafauna and Oceanography Laboratory, with their research consortium SECLER (Study of Environmental Conservation through Leading-Edge Research). She is based at Nova Southeastern University.
After watching this program, check out DCP's other webinars here on our website under the education tab, or on our YouTube channel, cleverly named "Dolphin Communication Project"
Original airdate: 16 November 2021