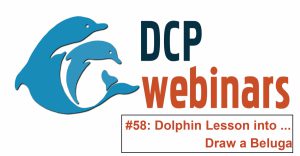 In this Dolphin Lesson, DCP's favorite artist Raina shows viewers how to draw a beluga! With beluga facts thrown in along the way, this lesson is fun for all ages.
You can simply watch along, or grab paper and a pencil/pen or a drawing tablet to try your hand at drawing a beluga!
Dolphin Lessons are geared toward ages 6-13, but everyone is welcome.
Curious about belugas? Check out some past DCP Deep Dives (geared toward older viewers). Just look under Education > Webinars or visit our YouTube channel.
Cognition and Executive Function
Whale Snot
Beluga Contact Behavior
Immune Function and Diving