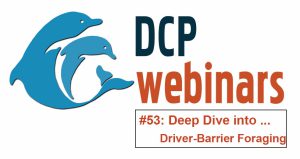 In this Deep Dive, Becca Hamilton discusses Driver-Barrier foraging, a unique cooperative foraging tactic used by certain members of the bottlenose dolphin population in Cedar Key, Florida. For her master's thesis, Becca investigated the vocal communication occurring between individuals in order for them to coordinate their efforts in time and space.
This program is geared toward ages 14 and up, but all are welcome.
You can find more DCP DD and DL webinars here on our website under the education menu tab or on our YouTube channel.
Original Airdate: May 27, 2021