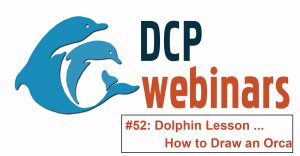 In this Dolphin Lesson, Raina guides participants through drawing an orca (aka killer whale), the largest member of the dolphin family. With orca facts thrown in along the way, this lesson will be fun for young and young at heart!
You can simply watch along, or grab paper and a pencil/pen or a drawing tablet to try your hand at drawing an orca!
Dolphin Lessons are geared toward ages 6-13, but everyone is welcome. Click here to download our orca coloring sheet.