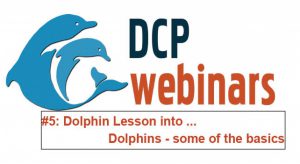 Wait. A dolphin is a mammal? Its fins are called what? There are how many species? Join Kel & Kathleen as they back things up a bit and offer a general introduction to dolphins.
This program is geared toward ages 6 – 13, but dolphin lovers of all ages should enjoy it. No need to do anything in advance, other than being ready to ask questions!
This webinar aired on 21 April 2020.
New to DCP? Check out our intro webinar, recorded on 2 April, to familiarize yourself with DCP. Or peruse thorugh our website and the other webinars below.