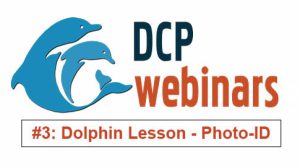 Tuesday 14 April 2020, 1:00 p.m.
DCP Dolphin Lesson: Who is who? Telling dolphins apart
This webinar was recorded on 14 April 2020. Kel Melillo Sweeting, M.S., Bimini Research manager, talks about how to recognize and identify dolphins.
Can you tell dolphins apart? Squirrels, Rabbits? Pet dogs? It's pretty handy if you can! In this Dolphin Lesson, your child will learn how dolphin researchers tell dolphins apart – and why it's important. This program is geared toward ages 6-13, but dolphin lovers of all ages should enjoy it. And, of course, the DCP team answers questions at the end.
Check out the other webinars on DCP's website and YouTube page. And, you can also find free, downloadable STEAM activities for kids (look under the education tab). Stay tuned to our social media for upcoming webinars, field programs and more!