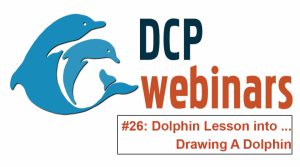 In this Dolphin Lesson, DCP intern Raina guides participants through drawing a dolphin. With dolphin body part facts thrown in along the way, this lesson is a great kick-off to our Fall 2020 Dolphin Lesson webinar line up!
You can simply watch along, or grab paper and a pencil/pen or a drawing tablet to try your hand at drawing a dolphin!
Dolphin Lessons are geared toward ages 6-13, but everyone is welcome. Nothing to do in advance – just tune and bring your questions!
Missed our earlier webinars? Check out the recordings on DCP's YouTube channel.
Or check out the other webinars under the Education tab here on the Dolphin Communication Project's website.
www.dolphincommunicationproject.org
Original airdate: September 15, 2020