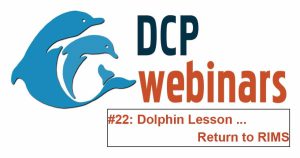 In this Dolphin Lesson, Dr. Kathleen meets up with Teri Bolton from the Roatan Institute for Marine Sciences (RIMS). You may remember Ms. Teri and the RIMS bottlenose dolphins in our May 5th webinar and we're excited to cover even more bottlenose dolphin information in this next Lesson.
Dolphin Lessons are geared toward ages 6-13. Nothing to do in advance – just watch and learn!
You can find our earlier webinars here on the Education tab of the DCP website. Or you can check out the webinar recordings on DCP's YouTube channel.
You can also learn more about the RIMS at their website or on their Facebook page (https://www.facebook.com/roatanims/).
Original airdate: June 23, 2020