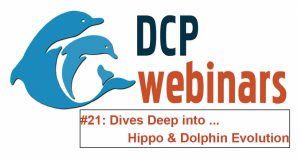 Have you ever heard that hippos are dolphins' closest land relative? What the heck does that mean?
In this episode of DCP's Dives Deep webinar series, listen to Dr. Maria Maust-Mohl as she explains the evolutionary connections between cetaceans (whales and dolphins) and hippos.
This program is geared toward high school students and above, but all are welcome to listen and learn.
To learn a bit more about this topic, check out Dr. Maust-Mohl's article on … nostrils!
You can find our other webinars on the DCP Education page – webinars. Or you can visit DCP's YouTube channel for more fun webinars!
Original airdate: June 18, 2020