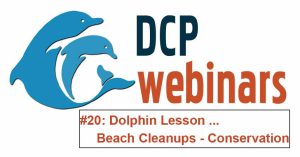 In this Dolphin Lesson, Dr. Kathleen is joined by Ms. Annette from Blue Lagoon Island home of Dolphin Encounters to talk about marine debris, ocean pollution, and what can be done about it.
Have you ever done a litter clean up, at the beach, the park or even on your own street? Why is litter a problem and what does it have to do with dolphins?
Dolphin Lessons are geared toward ages 6-13. Nothing to do in advance – just watch the program and see how you can help lessen the amount of marine debris!
Thank you to Blue Lagoon Island! And, Ms. Annette.
Check out the other webinars from DCP on our YouTube channel, or visit the other pages here on our website, where you can also find other interesting information about dolphins.
Original Airdate: 16 June 2020