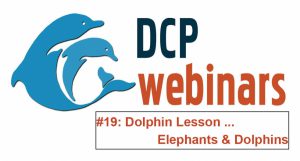 In this Dolphin Lesson, Dr. Radhika Makecha teams up with Kel to compare and contrast elephants and dolphins. They are both mammals – is that where the similarities stop?
Dolphin Lessons are geared toward ages 6-13. Nothing to do in advance – just tune in and enjoy learning about two social animals!
Missed our earlier webinars? Check out the DCP webinar here on DCP's website under the Education tab or our webinar recordings on YouTube.
Original airdate: June 9, 2020