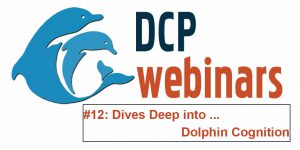 This DCP Dives Deep into … webinar brings you "Investigations in Executive Function in Dolphins: Violation of Expectations and Delayed Gratification"
This presentation is an exploration into the area of dolphin cognition and some ways that researchers study it. After a brief introduction to dolphin cognition and executive function (EF), our collaborator/presenter, Deirdre Yeater, Ph.D., details her studies with beluga whales and small dolphins. What are VOE and Delayed Gratification anyway? Listen to the program to find out!
This program is geared toward high school students and above, but all are welcome. Some additional reading for this presentation, can be found in this article. This PDF is free to download.
You can find out a bit more about Dr. Yeater and her work at her Sacred Heart webpage.
If you're new to DCP, you can find our other online programs on the Webinars page under the Education tab of our website. Or you can visit DCP's YouTube channel.
Original airdate for this presentation: May 14, 2020