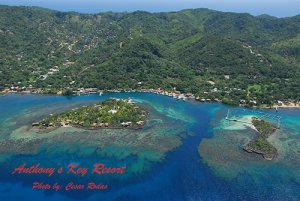 As travel days go, this was a long one for most of our group. You might remember from yesterday's blog that Bill got here Thursday. So, he had a decent couple of dives before the rain made the underwater visibility become murky! Don and Louise arrived on the first flight of the day from Houston. Ron, Kate, Shannon, and I arrived on the second flight from Miami. Mary followed mid-afternoon from Atlanta and the rest of our group (Tracy, Tony, Ike, Ally, Dawn & Bob) made an unscheduled detour to Belize to let the thunder and lightning subside prior to their second and successful attempt to arrive to Roatan. We'll do a group photo tomorrow or later this week when everyone is more rested.
The new dining room and meeting spaces are open (photos to follow tomorrow or this week). It feels very fancy … though the food is as scrumptious as ever! And the staff are the same, with a few new faces.
I collected my gear earlier today and am all set up for a session tomorrow morning. We are hoping to see Elli and her nearly 1-yr-old female, Gizmo, (pictured here) as well as all the other dolphins calling RIMS home.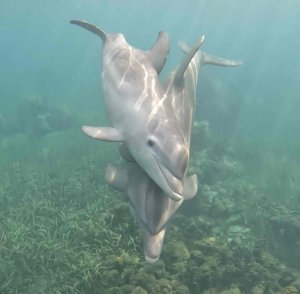 Our day tomorrow will start early at 6:45 … I'll be hoping for cleared underwater visibility and less than a drizzle of rain (Tropical Storm Julia is well to our south …).
Until tomorrow,
Cheers
Kathleen (with DCP's October 2022 Ecotour Group: Bill, Ron, Don, Louise, Shannon, Kate, Mary, Tony, Tracy, Ally, Ike, Dawn & Bob)