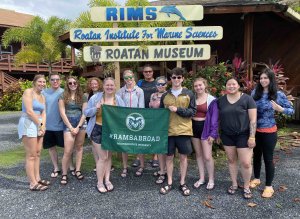 Data collection presented us with really bad underwater visibility this morning. Kathleen did a 30-minute session but only had about half that with dolphins in view. It was also very quiet this morning.
After breakfast, we went to the classroom for Manon's RQ presentation and then had the second portion of Shane's physiology lecture. Because the fiesta is tonight, we watched the video this afternoon and also had a chance to speak with Shane about our projects (research or PSA). After class, we got a group shot outside the RIMS classroom with the CSU Study Abroad flag!
Hope – it was a busy day in the classroom, but we had a very interesting lecture from Manon on relationship quality. Learn lots of stuff.
Katelyn B. – today was an interesting day. Started out with quite a few of us not feeling really good. Great lecture from Manon on relationship quality. Got a bit started on my project and I'm ready for BBQ.
Kristina – love the lectures on RQ and the dive response. Can't wait for the fiesta tonight!
Austin – rough start to the morning but it picked up as the day went on. Listening to Manon's lecture was very interesting and informative. Can't wait to race some hermit crabs tonight.
Sam – Been stretching my back all day getting ready for limbo tonight. Really enjoyed the physiology and RQ lectures.
Katelyn M. – Loved listening to Manon's lecture on RQ and to continue on with Dr. Kanatous' talk today. Can't wait to bust out some moves in the dance contest tonight.
Stryder – Slow morning but progressed through the day. Had some great talks at lunch with everyone. And I'm excited for tonight.
Hannah – Had a good time learning in the classroom today and thinking about what I want to do for my project. I will definitely not be doing the limbo tonight!
Cassidy – though this day started on a low point, I'm hoping it will end on a high. The day progressed with lots of learning both from Manon and Dr. Kanatous. I loved getting to immerse myself in so much knowledge.
Kira – I've got lots of project ideas bouncing around in my head today.
Amy – I learned a lot from Manon's presentation and about how different relationships are classified. And also it was interesting to talk to Dr. Kanatous and other students about potential PSAs.
Manon – At least we didn't get soaked by the rain … not yet.
Shane – Fiesta Night!!
Our streak remains alive! Ron, honorary CSU field course student, won the hermit crab race! And, Kristina is the limbo queen this week! Woohoo! Several of us also had our photo taken with some of the Garifuna dancers! (See photos below.)
Until tomorrow,
Pec Fin Posse