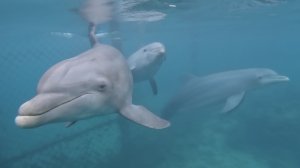 Data collection was the early morning highlight with a VERY quiet session – both above and below the water's surface. All the dolphins were in the main lagoon during the session and there was much pair swimming and some social rubbing. Neat stuff! We learned about relationship quality from Manon during the morning lecture and reviewed the video from the AM session. The afternoon had Jennifer giving us a talk on coral restoration – another very interesting presentation.
pretty early AM: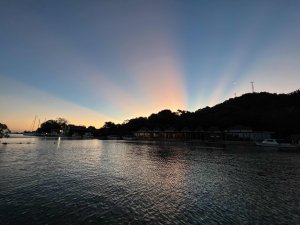 We had a paper discussion and then a from-shore snorkel from the AKR shore dive location on the NW side of Anthony's Key. FUN!
Lydia – I really liked the coral reef restoration talk today.
Rachel – I really enjoyed the coral conservation talk and also snorkeling in the reef with my fish friends.
Emma – I really enjoyed being able to snorkel on the reef and just being able to go right into the water from the beach at Anthony's Key and getting swim lessons from Erin.
Cassie – I really enjoyed snorkeling on the reef and getting to see some lionfish.
Erin – I had fun this morning at data collection and having Steven point out a lionfish to me, as well as snorkeling off the back of Anthony's Key.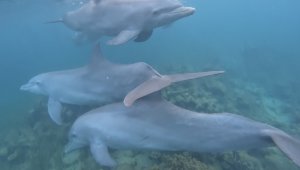 Sami – I had fun during the snorkel and I got to see one of my favorite corals, the brain coral (Diploria labyrinthiformis).
Molly – My favorite part was going swimming and kayaking with Alexis.
Rowan – I did really enjoy snorkeling. My favorite part was seeing the invasive lionfish and the purple sea sponge.
Grace – My favorite part of today was Bill telling me I was like a mermaid while snorkeling.
Jen – I really liked hearing about the coral restoration projects and seeing how much creativity went into them. I had a lot of fun snorkeling with the class.
Alexis – I had fun kayaking with Molly and it was cool to learn about the relationship quality research between the bottlenose dolphins and the Atlantic spotted dolphins.
Hannah – I really liked the coral restoration talk and learning about how research has led to growing some corals 20x faster than in the wild. It was really cool to go snorkeling and see some of the corals we learned about.
Justin – I enjoyed learning about DCP's latest data on pair swim position. And have also genuinely enjoyed how most of my meals have turned into advising appointments.
Manon – Very calm and quiet dolphins during the morning session. And very good visibility during the late afternoon snorkel. Hurray … another French Angelfish!
Dinner was delightful. Tomorrow is our last full day with data and snorkeling.
Until tomorrow,
URI's Mystic Mermaids