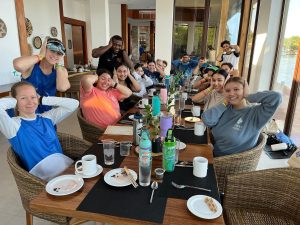 We had a Wednesday full of energetic activities! Our day began with a "bright bang" – so to speak! We had a lightning show and thunderstorm/squall pass by between 4 and 5:30 AM. The squall passed in time for us to head over to Bailey's Key to conduct our surface observations and space use data collection associated with Kathleen's underwater video data observations. The dolphins seemed a bit sporadically active at the surface. The underwater visibility was not great and so Kathleen spent less than 20 min in the water. This gave us more time for a quick breakfast (Sony joined us to clear our ears or "loosen our brains" in the featured photo!) before boarding the snorkel boat. 
We did a two-snorkel boat trip. We went to Blue Harbor inside the reef first and the second snorkel was between Lawson's Point and AKR at Rocky's Point. The fish were spectacular and our second session, just outside the reef, was on a wall and had a slight swell. Still, it was fun … and we all worked up an appetite for lunch. Our afternoon included data entry and a lecture on GIS data processing from Dr. K, as well as a lecture on sea turtles by Jennifer K. A few of us returned to Bailey's Key before dinner for an afternoon space use baseline data collection session. 
The highlight of the evening was the buffet on Anthony's Key for Fiesta night. We enjoyed the hermit crab races, the Garifuna dancers, the limbo, and the dance contest. Nicole and Sabrina were the last two St. Mary's contestants in the limbo – they had fun and represented us all well! Joel, Gabe, and Kalli danced with the Garifuna as the rest of us cheered them on! After that, we all went back to our rooms to rest up for another early morning session tomorrow – Tide pools before dolphin data collection is on the agenda first!
Until then,
Cheers 
The StMU Snorkeling Serpents
P.S. Kathleen wrote tonight's blog for us so we could enjoy the fiesta night festivities!