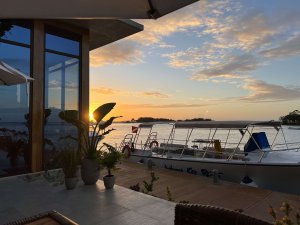 As travel days go, ours was quite pleasant! About a 1.5 hour drive to Miami, followed by about a 2 hour flight from Miami to Roatan. The only lengthy portion of our travel day was the 47+ min wait in the TSA line. After a bit of time in Roatan immigration, we met Alexza and Greg for our shuttle ride to Anthony's Key Resort! It was late afternoon and we picked up the MVA case and watched the dolphins from afar. We will start our first observation session on the last morning of 2022! This way we will be prepared to share our first observations with our first group of students who arrive in the early afternoon from CSU.
Our first evening witnessed a colorful sunset and a delicious risotto for supper! And, we got to enjoy some of the Christmas light decorations around the new building and welcome reception area.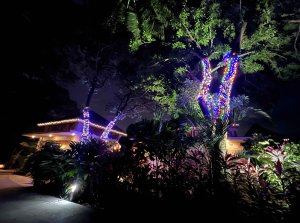 We look forward to an early morning start on New Year's Eve to see the dolphins and say happy New Year to them!
Cheers
Kathleen & Manon