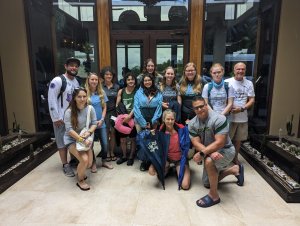 CSU group 1 departed this morning (featured photo) and CSU group 2 arrived late this afternoon! It also was a morning of absolutely horrible underwater visibility! Kathleen did not collect underwater video data though the CSU WET Rams collected space use data and one set of surface observations.
Here are the impressions from each of the CSU group 2 students after their arrival:
Amy – I feel like being here is surreal and it kind of reminded me of a science fiction movie. And, I like science fiction.
Austin – It feels like a different planet here. I 've never been to a place like this … feels like a movie with the palm trees and the ocean.
Sam – very grateful to be here. Food was really good! I'm very happy with the bungalow and the view.
Kristina – Arriving here during sunset was amazing and the island is way more beautiful than the pictures on the internet.
Katelyn M. – It was kind of a culture shock seeing everyone outside because you don't see that in the US. The trees are so green and full. It is amazing.
Stryder – It is all really green here and all the flowers. It just smells really good. It is awesome to see that there's not too much waste around.
Katelyn B. – feels surreal – I just feel really very much in awe of everything that's going on. I can't wait to get started.
Hannah – I think that it is beautiful here and it's really cool to see a place that is very similar to places I've seen in documentaries. It's cool to see it come to life in front of you.
Hope – Getting to see all the different aspects of the resort, especially during sunset was amazing.
Kira – As a kid, I spent summers with my dad in Florida on a sailboat. The smell of the water here brings back those memories to me.
Cassidy – I want to stop time to just soak it all in. But at the same time, I'm super eager to get a start and experience all the things that RIMS and AKR have to offer.
Don – great to be back and great to see old friends and ready to meet new friends.
Manon – It was nice to have a slow day. Goodbye group 1 and welcome group 2.
Shane – Group 1 is safely back in Denver. Welcome to everyone and let's have some fun! (gotta let the parrotfish go until I see it again!)
Hopefully tomorrow will bring improved underwater visibility and dryer skies!
Until tomorrow,
Kathleen, Manon, Shane, Amy, Austin, Cassidy, Hannah, Hope, Katelyn B., Katelyn M., Kira, Kristina, Sam, Stryder, Paige, John, Ron, & Don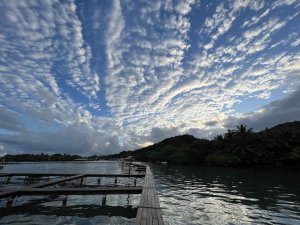 Amazing AM clouds!
P.S. A catchy CSU group 2 name awaits the blog tomorrow!