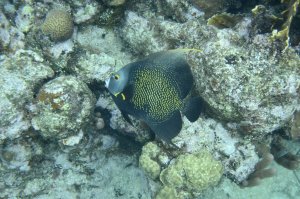 Our second to last data collection session was active! There was socializing between Buzz, Tank and Rocky and lots of leaps by Maury. Kathleen also saw Poli and Tilly and Sandy and Elli and Gizmo … there was much contact and rubbing and also seaweed play!
After our yummy breakfast, we boarded the Dona Yita for a ride toward West End to snorkel on the reef called the Aquarium. Lots of fun fish and a slight current meant we enjoyed 45+ min of snorkel time. The ride home was wet with a rolling swell! Our impressions are below:
Ember – didn't expect to see a porcupine fish on the trip and definitely didn't expect to see an old, huge porcupine fish. It was awesome.
Amelia – getting splashed by very active dolphins three different times was a very interesting way to start my morning.
Natalie – who knew dolphins could dance?! Next time I am at Anthony's Key Resort, I will definitely ask Champ if he is down for a little swing!
Adilia – Got to explore the reef off West End, called the aquarium. It was a bumpy ride back, but I would love to do it again some time.
Lauren – No need for Elitch Gardens! The snorkel boat is the only roller coaster I need!
Halle – If you go really still while snorkeling the fish will see you as one of their own. So, I got to see what it was like to be part of a school of fish.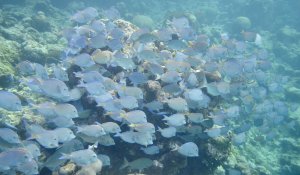 Jeff – Spent the day as a dolphin trainer. Did I train them or did they train me?
Madison – So happy I got to spend my final day with my fiancé with the dolphins. Also, Happy Birthday to my Uncle Ron!
Ron – I am happy to see life-long friend ships being developed this week.
Camille – Beautiful week of discovery! Thank you!
Manon – Very active dolphins this morning. And a lot of interesting fish on the reef during the snorkel.
Shane – Good group, good project ideas and Damn that was the biggest parrotfish I've seen!
The afternoon gave us another visit to Bailey's Key to observe the dolphins in the back pools to see how we might make observations there for our individual project proposals. We watched the morning video followed by our second chats with Shane and Kathleen about our projects. We enjoyed a sweet chocolate cake to celebrate Ron's birthday – Happy Birthday! It was a great week!
Tomorrow is our last data collection session, followed by packing our last items and heading to the airport.
Until tomorrow,
WET Rams