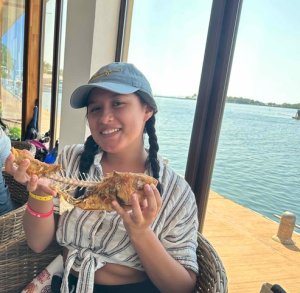 Our first morning of dolphin observations and data collection – woohoo! We got to see several dolphins and practice our novice attempts at recognizing each individual. After meeting the dolphins in person and having a nourishing breakfast, we spent time in the classroom learning about the permanent scars and marks on each dolphin. Our morning wrapped up with a snorkel on the northeast side of Bailey's Key to gain experience with our snorkel gear and, of course, watch fish! Our lunch was even more welcome given how much we snorkeled! Ana and Gabriel ordered the fish special … They both did well cleaning the bones, as you can see with Ana's fish on the featured photo. Gabriel did similarly … thought he preferred to kiss his fish when finished!
Anapatricia – Today was filled with excitement from snorkeling to being in close proximity to dolphins and even feeding a dolphin. I also really enjoyed the fish talk and I have never thought about how even the tiniest fish make a huge impact on the health of the ocean.
Ana – I loved learning how to ID the different dolphins and fish today. I'm really excited to go snorkeling tomorrow and my favorite thing to eat today was the fried plantains!
Gabriel – Today was exciting and fun, from observing dolphins to breaking my glasses to kissing a fish at lunch. I also kayaked for the first time and finally snorkeled without the life vest! I simply cannot wait for the rest of the week.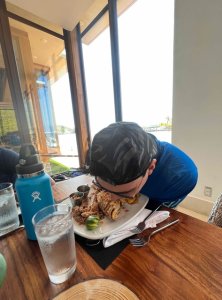 Gabby – Today I accomplished the unthinkable. I was able to snorkel without a life jacket!! I learned a lot with the fish ID talk and started to get familiar with all the dolphins. (P.S. the docks are scary to walk on.)
Brie – It was exciting to see all the dolphins again and to be able to recognize a few of them. It was also really fun to go out and snorkel in the ocean again. 
Savannah – I overcame my fear of snorkeling – my first time today. It was fun and easier than I expected; just to see everything within my reach (I didn't grab anything). It was neat to see the ecosystem. I felt like I was flying.
Kalli – I got to live out my mermaid dream snorkeling today … there were many beautiful fish swimming among the corals that I got to see. I look forward to not only more snorkeling but continuing the dolphin research bright and early.
Megan – I enjoyed relearning about data collection and the fish ID talk. But the best thing was that I checked off 4 of my "39 before 40" list. I had a good cry, and it was the first time I ever saw a young dolphin. 
Mary – I was shocked by how much Trixie and Gizmo grew since Nov/Dec 2021 when I was here last. And I had so much fun snorkeling and engaging in very interesting conversation with leading researchers in the field.
Felice – I was really excited to see the dolphins today and learning how to distinguish each of them by their fins. Snorkeling was fun but I was really nervous in the beginning until I saw fish. The salt water was not what I expected. 
Nicole – I was so happy getting to see the dolphins again and it was really interesting to see the ultrasounds being done on the dolphins' lungs, ovaries, and blubber. 
Sabrina – I had a great day today meeting the dolphins and snorkeling but unfortunately my migraine took me out of the afternoon activities, but I thank everyone for helping me get back on my feet. I loved learning how to ID the different fish during out snorkel, too. 
Jean – It's been a day full of adventure. Swimming on the reef, taking in the marvelous dolphins, and the comradeship of the group.
Dr. K – I was very proud with how everyone did during snorkeling. 
Dr. H – Everyone survived today … Pete's fish talk was fin-tastic. I look forward to the rest of the week.
Our afternoon wrapped up with an invite from the Vet, Tom, letting us watch how he did some ultrasounds of a dolphin, and observing a bit of a training session. It was more than we expected!
We all look forward to what tomorrow will bring.
Cheers, 
The StMU Snorkeling Serpents
P.S. Joel is packed and bringing superglue for Gabe's glasses and did some research catch up before traveling here Tuesday, after his passport meeting on Monday, which was the reason he is not here with us, not his birthday being the day before travel.