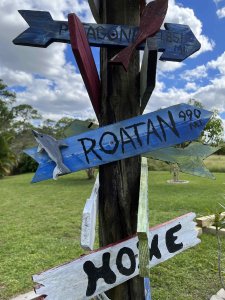 This sign is one of many in our back yard! We head out tomorrow for Roatan and another DCP ecotour. Woohoo! Ron and I are traveling together and will be met by Shannon and Kate in Miami. The others in our group will arrive from Houston. Bill got there early!
We are watching Tropical Depression #13 and hoping it stays weak and passes more southerly. We'll be in the water so the rain won't be an issue, but wind and rough seas could impact our diving and snorkeling. Fingers crossed that we'll be ok!
We will begin this week with our 24th data collection session of the dolphins at RIMS. I look forward to seeing how much the younger dolphins have grown and to see who is hanging with whom!
Tomorrow evening, I'll introduce the DCP participant group on our ecotour (14 folks!) and provide an update on the dolphins and the resort (I hear the new dining, reception, and meeting areas are ready to welcome us!
Until tomorrow,
Cheers
Kathleen