The mantra for this morning's session in the observation notes related to the indecipherable mumbling I made through my snorkel. The session was lively and the weather the best of the week with spectacular underwater visibility! But, it was also characterized by Hector's intensive interest in my fins! He would not leave them alone. I found myself inadvertently telling him to stop through my snorkel. Dolphins, like humans, seem unable to translate snorkel mumbles because he never did lose interest in my fins. I focused on other dolphins and their socializing – much buzzing, whistles, and social activity. I was able to record ~45 min beginning at 6:30 AM.
Our team had a dolphin dive to join at 8:00 AM. They were joining four other guests, a dive master, a trainer and Hector and Paya for a dive to 45 ft (~15 m). Hector paid no attention to their fins … maybe his favorite color is green!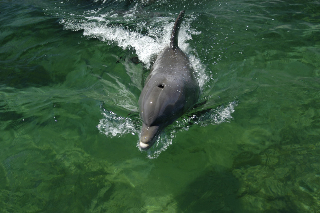 I was able to collect another hour of video in two sessions: a short 15 min swim with Ken, Anthony and French and a 40 min session with all but the adult males. During the former, Maury buzzed and bubbled at the three young males and then sped away. They responded in kind. Very exciting happenings!
The afternoon was spent with data transcription (slates to pages) and review of a bit of video. Ron, Madison and Lisa joined the zip-line trip and slid through the trees at high speed. John took "crab-cam" (aka "tide-pool cam") over to video the mangroves and tide-pool critters. He received a bit more sun … but then we all have today!
Tomorrow is our last day of data collection, unless I can sneak in a session at 6:30 AM Sat.
Cheers
Kathleen & the DCP RIMS 2011 team