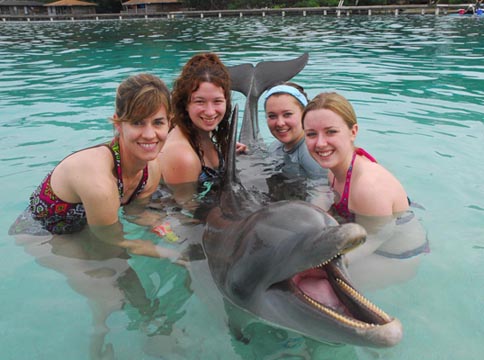 We started the morning early again … Kathleen was in the water at 6:37 am. The dolphins were VERY active this morning and we recorded lots of surface behavior. There was much rolling and various body parts splashed about at the surface. It was also our very first fully sunny day! That is, no clouds really to speak of, which led most of us to get a bit of sunburn. But it was totally worth it! We got the sun not only during Kathleen's data collection but during our observations while the trainers were working with the dolphins this morning. It was our last data collection session for our field projects. This session was about 2 hours long. 
We had our second dolphin swim also today at noon and it was awesome! In the above picture, we are hugging French during our encounter. We observed quite a bit of behavior during the swim – Sarah was pushed around and up by the dolphins while Marge "screamed" at Kristin because she was not paying enough attention to her. For the record, Kristin was intently watching one of the young calves. One of these young calves was rubbing intensely against his mom – sort of waggling his/her body back and forth against mom. Marge seemed to surround herself with all of our swimmers when the young males were charging her. We also saw quite a few neat fish during our dolphin swim – even one lionfish! They are definitely interlopers. 
The afternoon provided our last talk for the class and it was on communication: this was a nice way to wrap up the class for the field portion. Dinner was illustrated by the Garifuna dancers and much loud music and dancing all around. Tomorrow we depart. 
Cheers
Kathleen, Amanda, Amber, Kristin, Sarah