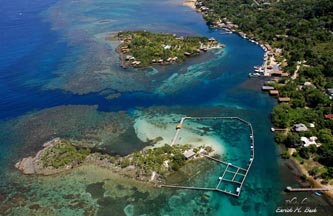 We had two morning data collection sessions – one at 6:30 and one at 10 a.m. The sky had a layer of cumulus clouds on the northern horizon which dropped a bit of rain on us early in the morning, but the later morning session had bright sun. The wind and current joined the sun making for an exercise-filled underwater session. The dolphins were very vocal early and Mika had Gracie's calf when I entered. Mika's calf was nowhere that I could see until about 20 min into the session when he was with mom again. The juvenile and adult males were VERY social this morning and Ronnie was riddled with new long rake marks all over his left side!  
The second session was quieter – everyone had consumed breakfast and interacted with their trainers. There was some rubbing and definitely some inquisitive behavior around my fins. Bailey had her little sister, Pigeon (Cedena's 6 month old calf) with her often during this session and seemed to want to keep Pigeon a bit farther away from me than Pigeon wanted to be. Bailey swam between us on several occasions. 
For about 15 min during the first portion of this second session, Teddy, one of the trainers, was checking some of the netting and saw a lionfish, but I did not see it. Maybe I will later in the week.The current kicked up about half way through this session and made my swim back to the platform a bit more challenging. The wind increased but so far the waves have not yet followed suit. Maybe the predicted storm will be small?! Still, we spent the afternoon reviewing video and entering data from the observation sessions. Tomorrow begins with another early morning session over at Bailey's Key. If you look closely at this photo you can even see some of the dolphins in the image.  
Cheers
Kathleen