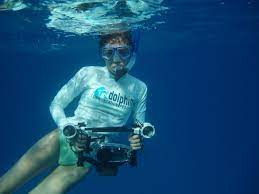 Nicole Danaher-Garcia, PhD
Research Associate
Department of Biological Sciences
School of Environment, Arts and Society
College of Arts, Sciences & Education
Florida International University
Nicole graduated from Duke University in 2011 with a Bachelor of Science degree in Biology and a minor in Environmental Science. Following a lifelong love of animals, she accepted her first animal husbandry internship at Mystic Aquarium where she learned about sea lion training and animal behavior. During this internship she stumbled upon the book Dolphin Mysteries and reignited a desire to pursue scientific research. After returning from a second animal husbandry internship at the Georgia Aquarium, Nicole became a volunteer with DCP in June of 2012. She completed an internship in Bimini, The Bahamas, with DCP in the summer of 2013. She loved it so much that she even brought home two souvenirs: a pair of stray Bahamian kittens!
Since this first field experience with DCP she traveled to RIMS with Dr. Dudzinski in 2013 and returned to Bimini annually since 2014 (with the exception of 2020) to assist Kel Melillo-Sweeting with various college field courses, ecotours, and intern supervision. She successfully wrapped up her PhD work, focused on the social behavior of the Bimini spotted dolphins, at the University of Massachusetts Dartmouth in August 2020. Nicole was DCP's first postdoc and continues her postdoctoral position at Florida International University, in the Heithaus laboratory lead by Mike Heithaus. During this first postdoc year, she published two manuscripts and continues to collaborate with Kathleen and Kel on on-going research projects, primarily focusing on the Bimini spotted dolphins.