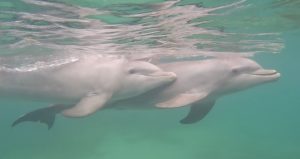 Data collection was the name of the game this morning with space use, surface observations, and Kathleen's underwater video data. There was moderate activity from the dolphins, but we know that Sandy, Rocky, Tank, Poli and her calf spent lots of time around Kathleen (Tank and Rocky are in this photo). We also were able to collect some space use data in association with an encounter this afternoon. After breakfast, we completed some space use data entry and assessed the panoramic photos for GIS (Lat/Long) coordinates using Google Earth. It was a fun session followed by lunch and an afternoon lecture from Jennifer K., Education Director, on coral reef restoration. Here are our perspectives:
Kalli – While I may have overcome the curse of fatigue and beat the heat, I did not win the war against the sun. (Hint, not the fire coral) It was intriguing to learn about the strides that have been made in coral restoration research. And the highlight at the end of it all was making friends with the little Caribbean reef squid while snorkeling. 
Savannah – Today was really informative. I enjoyed inputting data and following the coordinates of the dolphins' locations with my team. It was really interesting to also observe the animals during the encounter and collecting data. 
Joel – My passport finally came in! Woke up tired and I'm still tired. Data and snorkeling were very fun #girlboss Will I be able to identify the 18 dolphins? P.S. I saw the barracuda from Finding Nemo. 
Sabrina – Today was a pretty cool day learning about and entering spatial data. I also enjoyed watching the dolphin encounter and seeing how the dolphins reacted to people being in the water. I also loved learning about coral restoration and all the projects that are ongoing to save our coral reefs. 
Nicole – I had a fun time snorkeling behind Bailey's Key, learning about coral restoration, and seeing the dolphins during an afternoon encounter observation. The key lime pie (it's a slay) is life changing!
Brie – Today was filled with data collection and snorkeling. I had a great time with all my friends. And I'm excited for what is to come.
Ana – I really enjoyed identifying the coordinates of the dolphins from my panoramic photos today. I also really enjoyed snorkeling and learning about coral restoration. It makes me really happy to see so many young people interested in saving our coral reefs. I hope we can do enough. 
Gabriel – I literally got burned by fire coral today. I went to hell and back with the scars to prove it and I have stories to tell. 
Anapatricia – I really enjoyed the coral reef restoration talk. It's amazing how advanced our technology has gotten. It was also insane to see a ginormous lionfish. It was a bit scary. I sped-swam out of the ocean.
Gabby – I loved the coral restoration talk and learning about Dr. Vaughan's methods of restoration. I really enjoyed inputting data and, unfortunately, the fire coral won today. But not tomorrow! 
Mary – Took it a little easy today. We did some data input, and I learned a lot about coral restoration. Science is cool! 
Felice – I liked today. I was really tired in the morning, but I woke up right after lunch and seeing the lionfish today was an interesting event. 
Megan – I was fascinated by how far reef restoration science has come and interested in what else will be discovered in the future with genome selection. The squid were gorgeous. The cheesecake was fire, but not coral!
Jean – Three cheers for getting up early, Atlantic ghost crabs, data entry, coral reef restoration, dolphin encounters, and more snorkeling! 
Dr. K – Today was a slay! (or sleigh!) Today was a day of many side-eyes. 
Dr. H – I'm looking forward to tomorrow – mid-week – and that everyone has a good time and learns something new. 
We were able to do a beach snorkel before supper and then wrapped the evening with video data review and a short informal discussion. 
Cheers 
The StMU Snorkeling Serpents