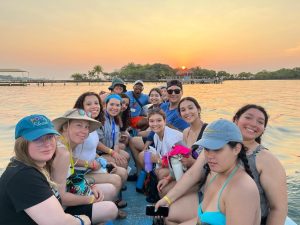 Monday's data collection was early, but we recorded lots of observations and a good set of space use data. Our morning went well, and we are all getting comfier with the observations and use of the grid, as well as documenting activity levels of the dolphins. After breakfast, we met near the lobby for the shuttle ride to Maya Key … well, to the boat dock for the boat ride to Maya Key. We snorkeled the reef off the key, had a yummy lunch, observed the animals residing on the key and viewed the ruin replica. It was a good visit. Here are our perspectives:
Nicole – It was really fun snorkeling off the deep end at Maya Key. I also really enjoyed the naps taken throughout the day today (one on the hammock!).
Megan – The three R's of Maya Key were incredible – reef, rescue animals, and ruins. I enjoyed learning about cultures that have been here before. And I enjoyed learning about observations from a different perspective with Dr. Karlin. 
Ana – I really loved snorkeling today in the reef off Maya Key. Seeing these ecosystems in person gives you a rare appreciation for them. Also really loved exploring the intertidal zone and looking at all the creatures. 
Gabriel – I had so much fun at Maya Key. I saw rescued animals, ate amazing food, and snorkeled; though not at the deep end, I will make my way down there soon. I need to clean my room ASAP for Joel's arrival tomorrow afternoon. I am also glad I gave my friends a laugh tonight at dinner. PERIOD.
Gabby – Snorkeling in the ocean was both tough and rewarding. I had never swum in the ocean but was able to successfully snorkel. Thanks to all my peers looking out for me.
Brie – Today was an exciting day at Maya Key being able to see the drop (on the reef) again was something I will never forget. It was amazing to start identifying fish that I learned from the fish ID talk. 
Savannah – Today was really exciting to explore Maya Key. It was fun but also scary to go over the edge (of the reef) and swim with the fishes. My favorite thing about today was viewing the underwater videos of the dolphins from the morning session. 
Kalli – I got a great purse and my day started rough, but it wrapped up well!
Mary – I had so much fun at Maya Key snorkeling. I also was able to identify some fish that we learned about last night. I saw some beautiful birds and had a great time admiring the ocean.
Anapatricia – Today I had one of the most amazing experiences of my life so far. I never thought I would have the opportunity to swim in the open ocean. It was a little scary, but I feel honored and very grateful for the opportunity. 
Felice – Today at Maya Key was very fun and relaxing. Snorkeling was fun and I went later with Savannah and saw a jellyfish. 
Sabrina – Today was a great day of adventure at Maya Key. It was such an amazing experience being able to see the coral reefs, the fish, and the open ocean. It was really scary! I also liked seeing all the animals at Maya Key that were rescued. 
Jean – Exploring the intertidal zone with the group late this afternoon was a gratifying experience. And the crabs were a hoot! PERIOD.
Dr. H – Today was a slay. (insert "sassy hand motion.") I'm grateful that all the students survived the drop-off. And we won the kayak race because Damian let us win. 
Dr. K – I just want to say that even if Damian went full speed, we would have still beat you to the gazebo because you all walk too slow!
The afternoon brought us back to Bailey's Key for a tide pool conservation observation session and two afternoon baseline space use data collection sessions. 
Tomorrow morning will come soon! 
Cheers 
The StMU Snorkeling Serpents
P.S. Joel has his passport!! Woohoo he will add his own comment tomorrow night!