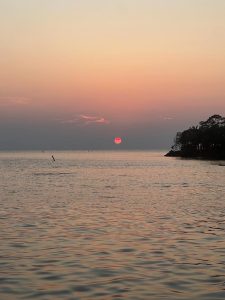 The dolphins were quite active this morning and Ronnie, Lenca, and Mr. French all showed too much interest in Kathleen's fins! Champ and Tank were playing and Trixie was quite curious about the MVA and Kathleen but also in doing some speed swims. Bailey and Tilly spent time around the MVA and Tilly and Mr. French had a bit of a vocal tiff. After data and a yummy breakfast, we met Samir, General Manager, to learn a bit more about AKR's and RIMS's histories and about how the resort focuses on being as sustainable as possible. It was neat to learn about the solar array and their composting approaches. The rest of the morning was set aside to do some reading for the afternoon talk and tomorrow's talk. After lunch, we watched the morning's video that confirmed the activity levels we saw from the surface this morning. The talk was about Lou Herman's research with Ake and Phoenix and their ability to learn syntax.
The day wrapped up with our second night snorkel; thank you Daniel for the sunset photo. Markus took us on an underwater journey that showed us an octopus, a few squid, a pufferfish, a snowflake eel, and lots of other fish. It was great!
Amalia – I really enjoyed the night snorkel. It was very cool to see an octopus.
Marriah – I took a very cute picture of Mr. French today. I think he might be my favorite dolphin.
Daniel – I think I'm getting better at dolphin IDs (better late than never).
Anna – The sunset was beautiful on the way to the night snorkel. When I lifted my head up once I was in the water, the whole sky was red and it was dark out.
Katariina – The dolphins were very active today and I also saw an adorable pufferfish.
Shereen – My favorite sighting was an octopus who kept changing colors and moving around over the coral reef.
Liz – Today I saw a lizard and he was running and decided bipedal would be faster and then ran on two legs.
Giulia – I saw a beautiful hummingbird today.
Poppy – The octopus did not look like a cartoon octopus.
Richard – I watched an octopus turn from green-brown to turquoise. That was very cool.
Kristin – I had to ghost Rocky today after our special time.
Manon – Great night snorkel. Too bad I managed to get stung by a bee once I got back on the boat.
Tomorrow is the last required data collection session for the group and a boat snorkel and one last lecture. The evening will wrap up with some fun!
Until then,
Cheers
The York U team