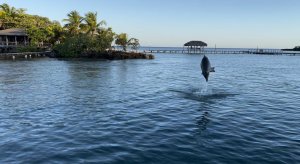 While the sun was shining this morning and during the day, we spent a good chunk of the day in the classroom learning about physiology, operant conditioning, and sea turtles. It was lovely not to have to reapply sunblock every 20 minutes!
Halle – I really liked listening to the guest speakers today and I saw two octopuses on the night snorkel.
Amelia – The sea cucumbers on the night snorkel were the largest that I've ever seen!
Ember – I loved seeing the progress of how my team did data collection. I think it went smoother than any other day. I felt like I was able to watch the dolphins and accurately know what I was seeing.
Lauren – Saw my first two octopuses on a snorkel today. Kudos ("props") to Halle for being the best snorkel partner ever.
Adilia – Synchronized snorkel dive with my buddy because she didn't have the light to see the lionfish was worth it.
Natalie – Stomach cramps can't keep me down because I saw a snowflake eel on the night snorkel!
Ron – I was tickled by the interaction between the cat at Bailey's Key and the pelican on the boardwalk on the dock … the stand down and the retreat!
Camille – Snorkel by night with two black (brittle) stars in the sea.
Manon – Got investigated by nereis on the night snorkel – pretty interesting.
Shane – Damn that was the biggest parrot fish I've ever seen … on Sunday afternoon!
This morning, there was a good amount of leaping activity just after Kathleen entered the water for data collection, as you can see on this front featured image. And, while Shane watched the two adult male dolphins in the back, Kathleen and Manon focused on the main lagoon to scan for mom/calf pairs. Susie, the cat, kept vigilant while Manon and Kathleen watched the dolphins!
Tomorrow is our dolphin encounter and swim! Woohoo!
Until tomorrow,
WET Rams