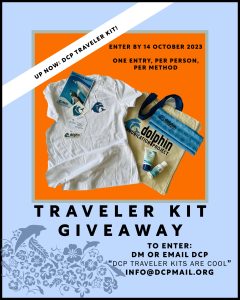 Win a DCP Traveler Kit! Enter with "DCP Traveler Kits are Cool" by 14 October. DM on social media or email us.
DCP Traveler Kits include a DCP shirt (lots of style choices!), Hoo-rag, stickers, travel-sized Stream2Sea products….all inside a new DCP tote!
(Want to buy a DCP Traveler Kit? Check it out here.)
Congratulation to last month's winner of a Common Bottlenose Dolphin Protector E-Kit! Thanks to everyone who entered.