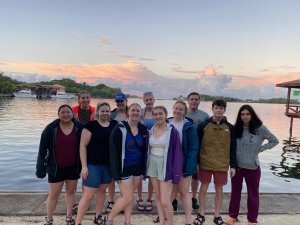 Our morning observations went well – it was a beautiful morning, bright and sunny. After breakfast, we spent time in the classroom for the first part of Shane's physiology lecture. And, we got a Q&A with George Keefer, who'd previously been part of RIMS but now oversees a sister facility in Curacao. He shared stories of the original RIMS dolphins and some training approaches.
We listened to Jennifer's presentation about sea turtles after lunch and then got rained out of our night snorkel! The rain was hard and longer than expected which decreased underwater visibility hugely! This group photo was earlier today … before the rain!
Sam – No avocado today – disappointed. Found time to go paddle-boarding but got rained on. There was a double rainbow so not all bad.
Austin – Got my brain working in our physiology lecture. Always good to get tested mentally. Paddle-boarded with Sam and got a bit too much sun on my arms but also got rained on this afternoon, which was nice.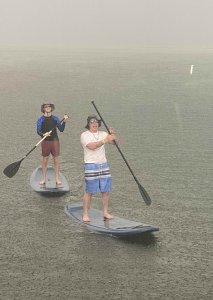 Kristina – Had such a relaxing morning I also loved learning about sea turtles and the conservation efforts for sea turtles worldwide.
Katelyn M. – Brain still hurts from this morning with physiology lecture. Got to spend some time reading a good book in hammock this afternoon and also love the sea turtle lecture.
Hope – I enjoyed the physiology lecture with Dr. Kanatous today even though he worked our brains. And I got to spend time in the sun before (and during) the rain.
Stryder – Had some really interesting and informative talks today and enjoyed getting some sun.
Katelyn B. – Had a great day today. The weather was nice. Enjoyed Dr. Kanatous' lecture as well as the sun and sitting on the balcony enjoying the rain.
Amy – this was a very peaceful day. I feel like I got a deeper understanding about why some biological systems work the way they do. And, also I really liked learning about how sea turtles reproduce.
Cassidy – Finally felt awake for the first time this morning. Really felt like I started school again today and enjoyed asking questions with George K. (who was visiting from Curacao) as well as Dr. Kanatous' lecture. And enjoyed the rain despite it cancelling our night snorkel.
Hannah – Had a good time in the classroom with the lectures today. It was nice to slow down and relax a bit but looking forward to the next couple of days.
Kira – I enjoy learning because it shows how much I still don't know. Both the physiology and turtle lectures aided me in that today.
Don – good dives but great informal meal conversations.
John – Had a great snorkel!
Manon – Pretty good morning observations. Got rained on for the second time of the trip.
Shane – Had an awesome morning observation session; saw some things I have never before seen in my life! Also enjoyed interacting with the students during the physiology lecture; they did an awesome job asking questions and engaging in the topic.
Our evening wrapped up with video review to practice our dolphin recognition and IDs. We look forward to more AM observations tomorrow.
Until tomorrow,
Pec Fin Posse