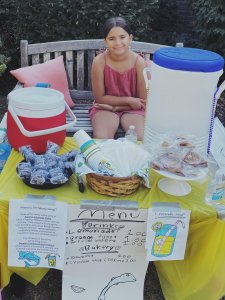 A big thank you goes to Myla (age 10) who recently donated funds from her lemonade stand to DCP, along with Alex's Lemonade Stand. We were so impressed with her charitable spirit, we had to shine a light on her! Kel had the chance to ask Myla some questions:
Kel: Whose idea was it to start a lemonade stand and when did it start?
Myla: My dad had the idea to start the lemonade stand. 2019 was when it started but I started donating to Alex's Lemonade Stand because we saw many children with cancer when I was in the hospital.
K: Do you sell classic lemonade or flavors? What's your favorite?
M: I sell lemonade, sometimes limeade and fresh orange juice, too! I also like to sell cookies and other baked items. I love lemonade!
K: Did anything surprise you about your lemonade selling experience?
M: I was on the radio station [because of my donation to Alex's Lemonade Stand].
K: What is your favorite marine animal?
M: My favorite animal ever is a stingray. I started liking stingrays around 2019 when my family went to an aquarium, and I got to see and feel them. They were so cute!
K: What is your favorite school subject?
M: I like writing, reading and science.
K: Do you have any pets or a hobby you'd like to tell us about?
M: I have two rescued pitbulls named Syd and Billie. When we got Syd he was very sick and had mange. I also like art, dancing and singing!
Congrats and thank you, Myla! To all the kids (& adults, ha!) out there, we hope Myla's story inspires you to love yourselves, each other, animals, and nature, and to remember that you can have a positive impact on the world right now!