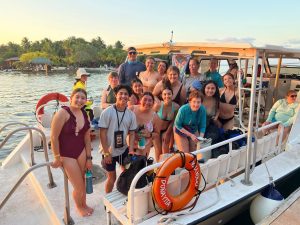 The day was jam-packed with a tide-pool observation and flora by the sea assessment before Kathleen's data collection! And the underwater visibility was SPECTACULAR! Such good long focal follows of the dolphins and even we could begin to ID some of the dolphins from the surface and close swim-by's. 
The late morning was data entry and space use/panoramic photo analyses, with a brief careers discussion – we learned a bit about Jean's path to Editor at Yale University Press. Our afternoon included a visit to the Mayan Jungle complete with Zipline! It was a blast! We returned in time to get our gear and board the Dona Yita for the night snorkel (the feature photo is us before getting wet …) – a HUGE thank you to Marcos and Marvin for leading the way with our dark, underwater trek!!
Savannah – Today was eventful. I faced my fear of heights and water in the dark. And I got munched on by a monkey, but it was still a spectacular day.
Felice – I feel like this day was filled with firsts for me. I ziplined and held a sloth. And it was so (Lady Gaga) utterly amazing. 
Sabrina – We had a jam-packed day today with ziplining, holding sloths and monkeys, and snorkeling at night. It was a very exhilarating day and I'm glad we were able to make it through with new memories and lots of laughs. 
Anapatricia – Today I experienced many things I've always wanted to experience. I went ziplining. I hugged a sloth. I had a monkey jump on my head. And I went night snorkeling. 
Gabby – I sobbed while ziplining but ended up loving it. I had my first night snorkel where Gabe saved me. 
Nicole – Today was a day full of new experiences, memories, and lots and lots of laughter. It was so much fun being able to zipline with everyone and being able to meet sloths and monkeys at the zoo and other sea animals during the night snorkel. It was a slay. 
Megan – I slayed five items on my list and knocked off 3 after lunch too. From ziplining to seeing an eel and sea star and ray while snorkeling and I got to feed a macaw. 
Mary – Today was filled with adventure and facing fears. Ziplining, heights, snorkeling at night, holding wild animals, and having so much fun while doing all of these things. 
Ana – I had so much fun today. I almost fell on my face exploring the intertidal zone. But I was able to have a lot of fun ziplining and being a tree for monkeys. 
Brie – Getting to zipline through the trees was an amazing feeling that I'll never forget. Night snorkeling was incredible to see so many different types of animals. 
Kalli – When others told me I needed to see things from a different perspective, I don't think they meant hanging upside down from a zipline. Furthermore, I don't recommend swallowing salt water. Salt is very much in the name. 
Joel – My transformation to become spiderman is complete. Go web go … fly.
Gabriel – I had a great day overall. I ziplined, hugged a precious sloth, and had my first night snorkel. For once in my life, I was not the one who needed saving. I finally faced my fears of coral and I felt like a merman today; saving Gabby from being slayed by coral. 
Jean (#girlboss) – I am grateful for the leadership, ingenuity, and hard work of our faculty, Kathleen, Heather, and Melissa. 
Dr. K – Some of us had coconut cream pie laced with laughter and I got to fly with a vulture. 
Dr. H – I was very proud of our students today for being brave during both ziplining and the night snorkel. They did an AWESOME job!
The evening wrapped up with yummy desserts (coconut cream pie, chocolate cake, cheesecake!) and some video data review. It's hard to believe that tomorrow is our last full day here at AKR and RIMS. And tomorrow is also our dolphin encounter and swim! Hurray!
Cheers 
The StMU Snorkeling Serpents