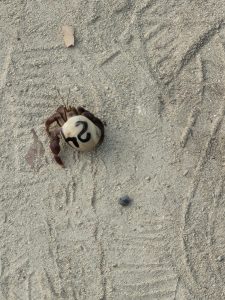 Friday was our (the CSU students) last full day on Roatan at AKR helping to study the dolphins and learn about the marine environment (and getting to know the sometimes-odd eating habits of our classmates!). As was typical for each morning, we began with surface observations and space use data collection while Kathleen filmed underwater. It was quiet from the surface, but the underwater session was limited to 20 minutes because Stan, Tank, Rocky and Buzz decided to share Kathleen's personal space and DCP cannot adequately do behavior analyses on body parts. After breakfast we has a long and delightful snorkel off West End – a very large pufferfish was seen and we rescued a glass 1 L coke bottle from the depths. We searched the flat calm seas for other cetaceans on our ride back but to no avail.
After lunch, we had our 10-minute meetings with Shane, Kathleen, and Manon to review the preliminary details about our projects. The evening was filled with laughter and a dolphin ID contest, which saw Memphis and Aria as the big winners.
Natalie – Parting is such sweet sorrow, but I have very much enjoyed making lifelong friends and lifelong memories.
Hattie – I saw the biggest pufferfish I'll probably ever see on a snorkel.
Memphis – This week was a slay.
Sydney – I got to see so many fun marine critters this morning on our snorkel and I had a lot of fun this week. Sad to leave.
Hannah – Had such a fun week and going to miss it.
Julia – The morning snorkel was a great way to end an amazing adventure where I met lots of great people.
Isabella – I had so much fun and I'm going to miss seeing the dolphins every day.
Grace – I had a blast this week and I'm looking forward to the rest of summer.
Blake – This week was amazing and I'm really going to miss Roatan and everyone I met.
Mel – I can't believe this week went by so fast. And I'm not excited to go back home to the same humidity but worse views.
Kiki – I had an incredible week. I loved meeting everybody and the dolphins and one day I will live on a beach like this and study marine biology.
Aria – I've had an amazing time this week and I'm gonna miss waking up every morning to dolphins bringing me seagrass to play.
Shane – We were very impressed by students' ideas for PSAs and research projects this afternoon.
Manon – A great week. Safe travel to everyone.
Tomorrow is our last AM data collection session. And Shane has photo proof that the hermit crabs are released as this blog photo attests. And it was actually Sydney's crab (#24) from the race!!
Until tomorrow,
Cheers
The Waterproof Rams