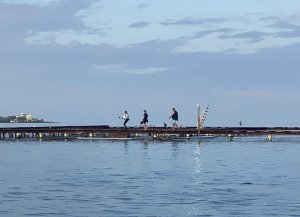 Data collection went very well this morning! Kathleen, Manon and Shane came out onto the dock area once we finished the baseline and before bouts of space use data collection. The underwater session for Kathleen went very well, even though it was more quiet than previous days for surface activity.
And John tested a proof of concept on using a drone for an overhead image when we collected space use data! The perspective is from 350 ft altitude – and you can still ID the dolphins in some cases.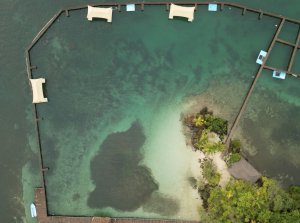 After data collection, breakfast was brief as our dolphin encounter and swim was moved to the morning in two sessions. We had a blast … as you can read below.
Stryder – today was amazing. Snorkeling with the dolphins made me emotional in the best way. And getting to spend the last day with everyone was great.
Austin – The dolphin swim and encounter was a transformative experience. Definitely top 5 in my life. Can't believe this was our last full day. I'm gonna miss the dolphins and everyone else.
Hope – We had a nice and sunny morning observation this morning. Swimming with the dolphins was an experience like no other. I'm sad to leave.
Katelyn B. – Today was amazing with the dolphins. Ronnie is now definitely imprinted in my brain. Can't wait to reconnect with everyone in CO.
Amy – Getting to swim with the dolphins was surreal and I had some really close encounters with Alita and Tank. This whole trip has been an experience I will never forget.
Katelyn M. – So sad today was the last day. But wouldn't trade it for anything. Loved getting to swim with the dolphins and blow bubbles with Trixie.
Kristina – The swim today was amazing. I really enjoyed learning about their training both at the encounter and during Teri's talk. I can't believe this week is already over.
Sam – Had an amazing last day. And an amazing filet. Loved the dolphin encounter.
Hannah – Today is a little bittersweet since it's our last full day here. The dolphin swim and encounter was amazing and humbling. And, I will never forget this trip.
Cassidy – Today was one of those days that I wish I had the power to stop time. There were so many laughs and moments of awe. The dolphin encounter left me speechless. And I will forever treasure the time I spent both in the water with dolphins and out of the water with people.
Kira – The sun finally burnt me today on the last day. But it was worth it to meet the dolphins in their own world.
Don – Such an outstanding group of people that I have gotten to interact with this week.
Ron – I'm always amazed at meeting a group of students from CSU because they come as separate individuals with no cohesiveness, but by the end of the trip they come together as a group and will reconnect back on campus.
Manon – The dolphin swim was a great way to wrap up the week with this nice group of students.
Shane – As Ron and Don said, this has been a truly special group. The way you have come together and supported each other so well has been truly impressive. You showed up every day on time and got the work done with smiles on your faces. This has been one of the most impressive groups we've had in the field.
Our afternoon included a talk from Teri on Operant Conditioning and some additional time chatting with Shane and Kathleen about our projects. Dinner was yummy and included an early Happy Birthday celebration for Don!
We depart tomorrow but will hopefully be able to get one more data collection session in … let's hope the weather holds …
Until tomorrow,
Pec Fin Posse