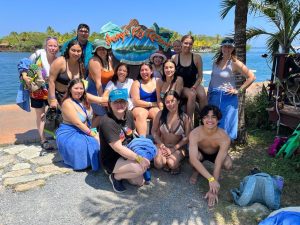 Happy St. Patrick's Day! Our last day began well with a great data collection session on the dolphins. They were quieter today than previous days. They perked up as did we after breakfast when we had our encounter and swim. We met Gracie and Alita during the encounters and then got to swim with a dozen dolphins with Poli and her calf making tight passes by us and Sandy, Trixie, and Buzz trying to get us to play with seaweed. After our swim, we spent time admiring Bill's dolphin sculpture in the works and had a delicious lunch. The afternoon included data entry for space use and Pano photos and some play time. Dinner was preceded by a rich and colorful sunset. 
Savannah – today was fin-tastic! Ever since I was a little girl I have always wanted to swim with dolphins. And today that came true. 
Mary – today was a bittersweet ending to our time here on Roatan. Swimming with the dolphins was even more exciting than I remembered. It is an experience I will remember for the rest of my life. 
Gabby – this week has come to an end. And I have learned a lot and faced many fears. This trip has made me do many things and experiences that I never thought I would accomplish. I snorkeled, ziplined, went into the ocean, swam with dolphins, held a sloth. A monkey jumped on my head. And it made me so happy. 
Nicole – even though our week in Roatan is coming to an end, it is one that I will forever remember. From the snorkels to the laughs to waking up early and seeing dolphins, I wouldn't trade this week that I have spent with everyone for the world. I have learned so much and had so much fun! And I got a tan!
Felice – It was our last full day and I'm tired. But I'm also sad. This week went by so quickly and every day was filled with the most memorable memories. Imagine being able to say you swam with dolphins or held a sloth. I'm gonna miss my time here and I want to come again one day. 
Anapatricia – I'm very sad this trip has come to an end. I've experienced things I will never forget, like swimming with dolphins, which is an experience I cannot put into words. I did not cry, but I wanted to. I am very grateful for the opportunity to come here and learn from amazing professors. I hope I can come again someday.
Sabrina – Today was a spectacular ending to our time here on Roatan. I absolutely loved our interaction and swim with the dolphins today. It was absolutely magical. I am so grateful for my professors and our time spent here on Roatan. I hope I'll be able to return again. 
Brie – After a week of adventure, research, and laughter, it is now time to go home. This group has turned into family that will cherish forever. I have appreciated all the dedication Dr. D., Dr. H., Dr. K and Jean have put into making this week spectacular and educational.
Ana – today has been a taste of paradise from being kissed by a dolphin to paddleboarding at sunset. I'm so thankful to have had the opportunity to come … I need to pack.
Gabe – This afternoon I looked back at the ocean and realized how much I'm going to miss this place. So grateful for the opportunity. I've made memories, overcame fears, and kissed Gracie (dolphin). Thank you, Dr. Hill, for everything. 
Kalli – The sun set on my final night on Roatan and it is heartbreaking to say goodbye. Every bruise and sunburn were worth it all to gain this field experience by the best in their field with an equally remarkable group of classmates. As a bonus, I was kissed by a dolphin. 
Joel – 47 meters down with dolphins, almost drowned. Dolphins, ziplines, monkeys, sloths, and dogs. End of the week kissed by Gracie (dolphin). End of log. 
Megan – new friendships and amazing memories are what I will take with me. But a piece of my heart will stay here forever. Even though I've been "lost at sea" for so long this week I rediscovered my north. I am sad to leave but grateful for the advice and excited for the future. 
Jean – May we all travel from here safely and well with heads full of new knowledge and hearts with lots of energy. 
Dr. K – I really enjoyed getting to make so many new friends. And teaching you all my noises. And I hope no student says I'm scary again. 
Dr. H – I'm super proud of all of the students who completed a lot of firsts and faced a lot of fears. That's what makes this program so rewarding. 
We tried our hands at dolphin IDs without our notes and watched some of the video data. It was a thoughtful wrap up to the week. Tomorrow, we travel home. 
Cheers 
The StMU Snorkeling Serpents