Join DCP in Bimini!
The next Bimini Eco-Tour has been scheduled. We hope to see you soon!
Sunday 16 May 2010 (Arrival)
Friday 21 May 2010 (Departure)

General Trip Info
Bimini
Bimini, the most westerly inhabited island of the Bahamas, is less than 50 miles from the coast of Florida, yet a world away. A small "family island," Bimini is a place for those looking to escape from the noise and traffic of the "real world." Less than 7 miles long and only a few hundred yards wide, Bimini is known for big game fishing, SCUBA diving, mangroves, and of course, wild dolphins.
Getting There
Bimini is most easily accessible via Ft. Lauderdale International Airport (FLL) on Continental Airlines (operated by Gulfstream Airways; www.continental.com ) or Nassau, Bahamas on Western Air (www.westernairbahamas.com ). All flights go through South Bimini International Airport (BIM), a 20 minute bus/water taxi ride from North Bimini (taxis included in ecotour price). Air travel to & from Bimini is not included in the cost of the ecotour program.
Dolphin Trips
Guests will accompany DCP researcher Kelly Melillo in search of Atlantic spotted and common bottlenose dolphins. The dolphins will be observed from the boat, and when possible, under water. Guests will be able to assist in portions of the data collection, including underwater digital still photography. All swims are done with mask, snorkel and fins (no SCUBA). Rental snorkel gear is available at no charge if guests do not wish to bring their personal gear. It is highly recommended, however, that guests bring their own, properly fitted gear. There is no quicker way to upset your trip than to have a leaky mask or uncomfortable fins. Click here to learn more about DCP's research in Bimini.
Hotel
Guests will be staying at the locally owned and operated Sea Crest Hotel & Marina. Located in historic downtown Alice Town, this 25 room hotel offers A/C, cable TV, in-room refrigerator and fresh water showers. Please note this 3 story hotel does not have an elevator. Exact hotel is subject to availability.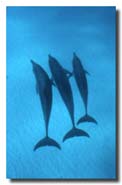 Getting Around
Alice Town, or "downtown," Bimini is very easy to navigate on foot. Golf carts are available for rent to explore the island further. Although there are cars on Bimini, rental cars are not available but are not needed anyway!
Money
Both American and Bahamian currency is used on Bimini, with equal value. There is a single ATM in Alice Town. The local bank operates on typical bank hours (M-F) and is available to cash traveler's checks or for cash advances on credit cards.
Trip Cost
$1,220* (Per person, Double occupancy)
$1,495* (Per person, Single occupancy)
*Recieve a ~3% discount if you pay by check or money order. Please contact DCP for details on paying by check. Full payment may be made by credit card (via paypal) or by check or money order. If paying by check, contact DCP BEFORE sending your check to ensure that your place is saved. Payments by check should be made out to Dolphin Communication Project and mailed to: Dolphin Communication Project, P.O. Box 711, Old Mystic, CT 06372-0711.
Included in trip fee:
5, 4-5 hour boat trips in search of wild Atlantic spotted and bottlenose dolphins
Rental of mask, fins & snorkel
5 nights' hotel accommodation
3 morning lectures/data activity
Transportation to/from airport/hotel in Bimini
Hotel taxes
NOT Included in trip fee:
Airfare
Food
Gratuity (boat crew, hotel housekeeping)
General Trip Itinerary*
Sunday
Morning: Arrival to Bimini & check in at hotel
Afternoon: Introductions to the group & boat briefing
Pre-sunset dolphin trip (4-5 hours)

Monday
Optional activity/free time OR Research activity/lecture
Pre-sunset dolphin trip (4-5 hours)

Tuesday
Optional activity/free time OR Research activity/lecture
Pre-sunset dolphin trip (4-5 hours)

Wednesday
Optional activity/free time OR Research activity/lecture
Pre-sunset dolphin trip (4-5 hours)

Thursday
Pre-sunset dolphin trip (4-5 hours)
Hotel check out, flight departures
*Note: This is a general itinerary and is subject to change.
Inclement Weather
There are no refunds if boat time is cancelled or reduced due to unsafe weather conditions. However, alternative activities, such as golf cart or nature tours, may be arranged in place of boat trips.
*****************************************
Is there a guarantee that I will see dolphins?
Unfortunately, there is no guarantee that you will see dolphins on your eco-tour – these are completely wild, free-ranging animals. However, there is over a 90% sighting success rate and over a 60% success rate for observing the dolphins under water on a daily basis. If you are uncomfortable with the possiblity of not seeing the dolphins each day, please check out our eco-tours at the
Roatan Institute for Marine Sciences.
If you are interested in joining DCP in observing the wild dolphins of Bimini, then this trip is for you!
*****************************************
Who can come?
Anyone with an interest in dolphins and laid back island life is welcome on this trip! Guests under 18 must be accompanied by an adult, with no exceptions. Children are welcome, however, must remain at all times, the responsibility of their accompanying adult. It is highly recommended that only children comfortable in the water join us on our dolphin trips. Comfort in and around the water for all guests is recommended. Anyone susceptible to motion sickness should take necessary precautions. All U.S. citizens are now required to present a valid passport to enter and exit the Bahamas (birth certificates are not longer accepted). Citizens of other countries should check for requirements specific to them.
*****************************************
Optional Activities
Interested guests have the option to add additional activities (not included in ecotour price) during the morning hours. Activities include bone fishing, SCUBA diving, shark snorkels, stingray feeds, mangrove tours, nature walks and more. Some of these activities can be arranged on-island, however assistance is available in aquiring information before hand.
*****************************************
Refund Info
Cancellation date cancellation fee per person
30-59 days 50% of expedition fee
29 days or less 100% of expedition fee (no refund)
Bimini Research Video
Watch: {flv}bimini{/flv}