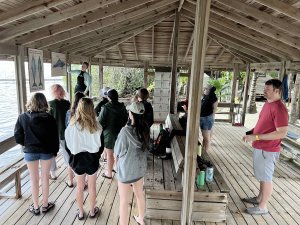 Our first data collection session in the morning began with an introduction to Bailey's Key and the dolphins. It was a windy day with residual wave action still present. Kathleen said the underwater visibility was awesome, but the current was VERY strong. She got about 15 min of video before exiting at the beach area.
After breakfast, we spent time in the RIMS classroom learning about DCP and the dolphins here at RIMS as well as how to collect space use data. After lunch, we discussed Kathleen's paper on use of pectoral fin contacts to promote social bonding among dolphins. It was a good discussion that was followed by learning about the MVA and trying it out in the pool.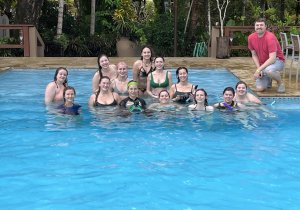 Our first impressions from our first full day at AKR are below:
Molly – My favorite part today was meeting Mr. French (adult male dolphin)!
Lydia – My favorite part was trying out my snorkel gear in the lagoon area off Anthony's Key. There were lots of neat little fish there to look at.
Sammy – I think I can identify three of the dolphins correctly today.
Jen – I snorkeled for the first time today and I really liked using the MVA.
Rachel – I really enjoyed meeting some of the staff including, but not limited to, Stephen and Quency in the dining room.
Rowan – I really enjoyed the fish ID talk. I thought the instructor was super lively and I am really excited to look for what we learned about in the talk!
Cassie – somehow the ocean was warmer than the pool even in the rain … so much better than Maine!
Grace – After taking pictures of the dolphins, I think I have chosen a new career path.
Erin – I had fun swimming in the rain and scaring Emma in the lagoon. More scares to come.
Emma – My favorite part today was waking up and going straight to the dolphins. That's a really great way to start a day. And the cats on Bailey's were great to meet, too.
Alexis – It was fun to do the dolphin IDs today to learn how Kathleen and Manon identify and recognize them.
Hannah – I learned that waking up at 5 AM isn't bad when you're on an island.
Justin – I think the highlight today has been how upbeat this whole crew has been, even though we're all tired from traveling still.
Manon – Overcast sky and strong current. Thank you, Mr. French, for the help.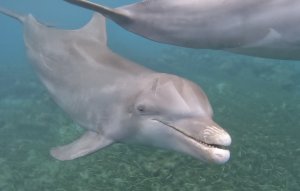 After the MVA session, we had a bit of free time and several of us went swimming in the lagoon/beach area off Anthony's Key.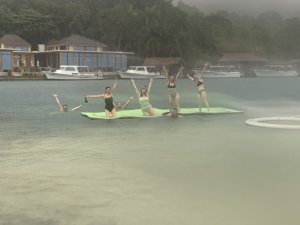 It's MUCH warmer than Rhode Island right now! Even the rain throughout the day did not get our spirits down! We look forward to tomorrow.
Until tomorrow,
URI's Mystic Mermaids