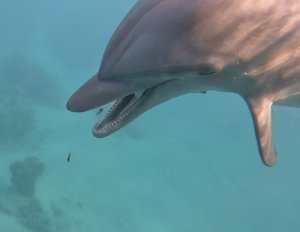 Our morning began early with data collection – first for space use and then with Kathleen's underwater observations.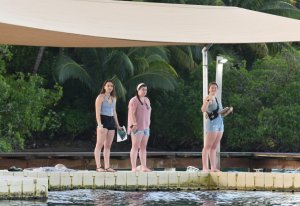 The visibility was good and she got lots of footage of Bailey, Tank, Sandy and Mr. French! There was much socializing going on. Sandy & Mr. French played with several pufferfishes today – they had fun, but we're not sure the fish enjoyed the exchanges!
After breakfast, we reviewed the space use data procedure and then boarded the bus for our trek to Maya Key. We spent the day there … snorkeling, having lunch, observing the animals who have been rescued.
Jen – I fed a South American sea lion today!! I also successfully snorkeled in the ocean for the first time and did not get lost and did not drown!
Molly – I chased agoutis and birds today. And I ended the night with a nice conversation with Bill (dolphin sculpturer).
Cassie – I may not have seen any sea turtles on this snorkel trip, but I still have hope for the week.
Emma – my favorite part of today was exploring Maya Key and seeing all the different rescued animals, especially the jaguar.
Rowan – My favorite part of today was the coral reef specifically, which I'd never seen in person before. I felt really happy being able to identify some of the dolphins, even with aid from my index cards! I can recognize Mr. French, Sandy, Bailey, and Tank.
Erin – Got SLATHERED in sunscreen! Still got burned. Had a blast snorkeling and feeding Maya Key's South American sea lion, Cayon. Excited for more dolphin time in the morning.
Rachel – I really enjoyed snorkeling on the reef today because it was really good to be back in the water. I liked being able to ID some of the fish we learned about last night.
Grace – I liked getting to see all the different animals at Maya Key and to practice taking macro shots.
Lydia – I liked standing where ancient civilizations once stood in the Mayan ruin replica. And, I really liked snorkeling even though I did not go that far from the dock.
Sami – I liked getting to snorkel today and seeing the parrotfish, the disco fish and the sergeant majors.
Alexis – I really enjoyed snorkeling today.
Hannah – I really liked seeing the agoutis today – they are like pocket-sized capybaras.
Justin – I really liked seeing how quickly everyone picked up on the dolphin ID markings.
Manon – Dolphin-Puffer show again this morning. And good snorkel at Maya Key. Damn that was the biggest parrot fish with a hat I've ever seen.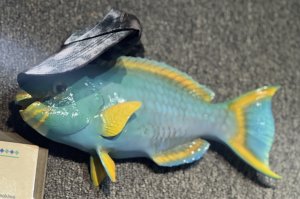 Tomorrow is our night snorkel, and of course, data collection!
Until tomorrow,
URI's Mystic Mermaids