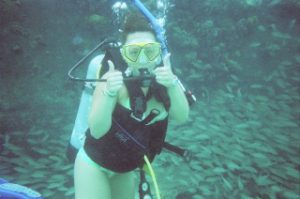 B.A. – Biology (focus in Marine Biology) and Environmental Studies, minor in Psychology – Connecticut College, May 2010.
Alexis started as an intern with DCP in the summer of 2009, during her junior year at Connecticut College. She gained an immense amount of experience and had the best time working in both CT and Bimini. During her internship, she spent much of her time focused on dolphin identification and recording pectoral fin rubbing behavior in both the bottlenose and spotted dolphin populations in Honduras and Bimini that DCP studies.
After such an amazing internship, Alexis decided to continue collaborating with DCP, volunteering at the CT office during her senior year and through the summer after her gr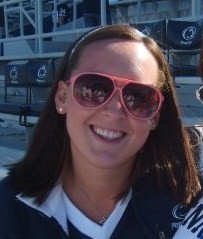 aduation. She continued effort on logging ID's from videotapes, recording pectoral fin rubbing, and began recording self-rubbing behaviors from the dolphins at study sites for DCP on Roatan and Bimini. Alexis completed an independent study project looking at aggressive behaviors exchanged between dolphins – a literature review. During the spring 2010 semester, Alexis also assisted Dr. Kathleen Dudzinski with teaching the DCP DRT programs to middle school students and assisted with DCP's new high school program – both as after school programs. Alexis is currently collaborating with DCP on a paper that presents an examination of pectoral fin and self rubbing behavior comparisons between three different dolphin populations at three different field sites.
Update: Alexis went on to get her Master's and PhD. We are so proud of her! Curious about her PhD work? Click here to check out her DCP webinar on Dolphin Social Avoidances, recorded in April 2020.