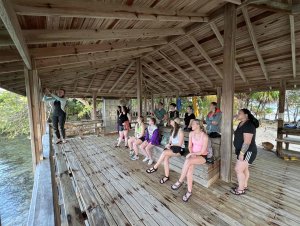 We had our first early morning data collection session and also got introduced to dolphins generally and to the RIMS dolphins. Kathleen told us the underwater visibility was awesome and we agreed tonight when we watched the video. We had lectures from Kathleen and Jennifer this morning and learned how to identify and recognize the dolphins. The afternoon brought us to the platforms to meet a couple of dolphins and a few trainers. Our later afternoon was a snorkel off Bailey's Key that was fun and the evening gave us a fish ID talk where we learned which fish we saw. It was a great day and here are our impressions:
Sam – had a really good breakfast! Really enjoyed the snorkel. And I pet a dolphin and she (Maury) kissed me!
Austin – Meeting the dolphins with the trainers was really cool. I got to feed Elli. Lots of fish on the snorkel, in the sea.
Amy – I got to meet Maury, Buzz, and Rocky and they were all really interactive. And I thought the dolphins were strangely human-like.
Cassidy – A lot of good laughs and a lot of "wow" moments. I was gifted a couple of pebbles by Elli and loved personally meeting the dolphins. I met Elli, Gizmo, Trixie and Gracie. I'm ready for bed!
Hope – Spending time with the trainers and having them answer any questions we had was really cool and helpful.
Katelyn M. – Today still felt like a dream. Meeting the dolphins and trainers was such a blast. And O feel like I'm already learning so much!
Stryder – I really enjoyed the snorkeling that we did outside Bailey's. We saw lots of fish and I learned what a scorpionfish was. It was really interesting meeting the trainers and getting to hear their perspective.
Kristina – I loved having the one-on-one experience with the dolphins. Maury shook my hand and Buzz gave me a lot of sea grass.
Katelyn B. – Early start today but still had a lot of fun snorkeling and meeting the dolphins. I enjoyed playing fetch with Maury with sea grass.
Hannah – It was my first time snorkeling in open waters. So that was super exciting. But meeting the dolphins and interacting with their trainers was definitely the highlight of the day.
Kira – I learned what lionfish rodeos were and how they manage populations of endangered species. And I liked relating the fish I saw during our snorkel to the fish in the ID talk.
Manon – morning observations with awesome underwater visibility and very active dolphins.
Shane – incredibly upset I could not relocate that giant parrotfish!
Tonight took us to well past "Roatan Midnight!" Tomorrow will come very early!
Until tomorrow,
Pec Fin Posse (aka CSU Group #2)