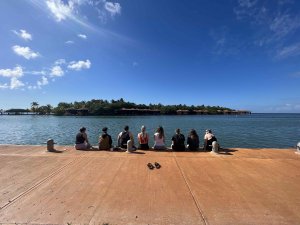 Data collection this morning provided LOTS of activity and entertainment! Kathleen let us know the underwater visibility had improved significantly and there was lots of leaping and surface activity. We all are feeling more confident in our space use and surface observations! We had a couple of lectures today (requiring several of us to take 5 minutes to warm ourselves dockside – feature photo!).
And we also did our night snorkel tonight. Our impressions follow:
Austin – dolphins were very active today – lots of cool stuff to see. Talking with Samir, GM of AKR, who was very interesting and informative. The night snorkel was really awesome!
Katelyn M. – loved hearing from Samir today. The coral reef lecture was very interesting and I feel like I learned a lot. Saw so many squirrelfish on the night snorkel!
Hope – I loved the lecture on coral restoration today. Was a little nervous about the night snorkel but once I got in it was like another world.
Hannah – I really enjoyed talking to Samir today and hearing his perspective about Honduras and the culture. And, I think the night snorkel was really fun and I got to see a lot of really cool animals.
Amy – The night snorkel was magical and it was good to be back in the water. Also, we've all improved on tracking dolphin activity. Samir Galindo's presentation was really eye opening.
Cassidy – Making sure I soak up as much Roatan as possible. Loved the reef restoration talk. Was amazed by the night snorkel, I loved seeing the eels and pufferfish especially. Good day overall.
Katelyn B. – Gorgeous morning with the dolphins. Enjoyed soaking up the sun after my helpful meeting about my project. Night snorkel was a success and finally got to see Olli the Octopus.
Sam – Had an amazing morning observing dolphins and an even better night observing the little fish that bit my finger during the snorkel.
Kristina – My body is still recovering from the limbo last night. I was anxious for the night snorkel but I got to see some really cool animals.
Stryder – Was very fun to see how active the dolphins were this morning. And enjoyed soaking up the sun. And later seeing all the fish during the night snorkel.
Kira – I enjoyed the night snorkel because there was no risk of me getting a sunburn. I liked looking away from the flashlights and imaging what else might be out there. (everyone else said no to that sentiment.)
John – Flew the drone today. Did not screw up all the shots.
Manon – best night snorkel I've ever done with great visibility and lots to see.
Shane – I learned today that Alita is dolphin shaped. Thank you, Austin.
Our panoramic photos are helpful for the space use data, but every not and then someone moves during a photo … and well, you can see Austin's distorted profile here!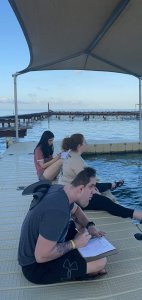 Tomorrow is our last full day and it is packed … A highlight will be our encounter and swim and hear Teri's talk on operant conditioning.
Until tomorrow,
Pec Fin Posse